More about the Newton Abbot Orchestra
(The following text taken from the previous website so is somewhat dated...)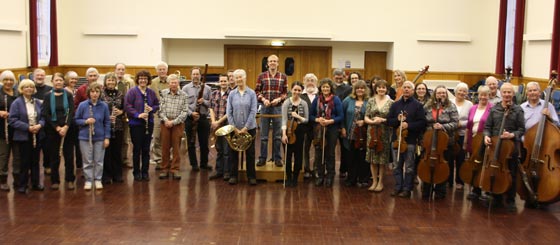 The membership of the orchestra has increased significantly through recent years to around 40 players, and the standard has improved dramatically. The new musical director, Robert Young, has led the drive to improvement, attracting new young players and raising the standard of play. Rehearsals are focussed and concentrated - although still great fun - and members are delighted with the transformation of their orchestra.
The repertoire has, always, included classical overtures and symphonies as well as some lighter music from shows, for instance. It has, now, become more ambitious, not only in repertoire but also in venue, testing audiences not only in Newton Abbot but in Teignmouth and Torquay and, recently, in Buckfastleigh and Paignton.
The first concert of the 2007-8 season was played at the request of Ashburton and Buckfastleigh Rotary Association. An audience of over 200 people, many of whom had never heard of this orchestra, enjoyed a thrilling evening of music, including Mozart, Beethoven and Faure. A regular feature of the concerts is the inclusion of the orchestra's own quartet, playing music often arranged by the then chairman and still current first cello, Janna Bulmer (Morasch). £1400 was raised at this concert, almost all of which was given to the Ashburton Family Worker project, which is supported by Rotary.
The orchestra took part in the Newton Abbot Mayor's Charity Concert on March 8th at Coombeshead Arts Theatre, together with Raddon Hill Clog Morris Dancers and Stover School Cantabile Choir. It was a successful event with which the Mayor, Cllr. Keith Smith, was very pleased. Over £1000 was raised for the designated charity; Home-Start (Teignbridge). Included in the orchestra's part in the concert was the world premier of a piece entitled Bowing the Dust, composed by Janna Morasch (lead cellist and then chairman of the orchestra). It was well received by an appreciative audience, as were all the pieces played.
The next concert, on May 15th at St. Luke's Church in Torquay, was another success story and the standard of playing was, if anything, better than ever, largely due to the fanatastic direction from Rob Young. The audience, though not huge, was appreciative and a return visit is likely next year. Among the items played was the piece composed by Janna referred to above. And a talented young Bassoonist, Joe Scarffe, played Mozart's Concerto for that instrument.
As a result of a second invitation by Ashburton and Buckfastleigh Rotary Association, this concert programme was repeated in St. Luke's Church, Buckfastleigh, on June 20th to an appreciative audience which braved very wet weather to attend. A report of the concert can be seen on page 55 of the July 11th 2008 edition of the Mid Devon Advertiser.
And, we were invited to give yet another concert in Buckfastleigh on 12th December! So, what did 2009 bring to the orchestra? In fact, it was an ambitious scheme to accompany the Torbay Operatic Society in concert performances of 'Showboat'. Four were given in late March at Oldway Mansion, Paignton, Abbotsbury Church, Newton Abbot, and two at the Flavel Centre in Dartmouth. Then, in May, it performed in a Studio in Dartington and, in July, gave concerts in the Daphne Colman Hall and in front of St. Leonard's Tower in Newton Abbot. And, once again, it was asked to give a concert in Buckfastleigh in December (10), which was very successful.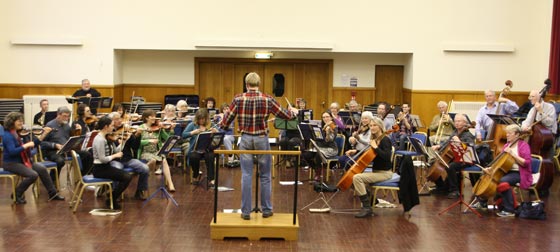 ---
Memories – by Hilary P. Kingsley
Newton Abbot Orchestra had its beginnings many years ago as the Linden Orchestral Players. I believe these were led and conducted by a viola player, Rosina Wall. Her father, Alfred Wall, had studied at the Royal College of Music and had two daughters, Rosina and Dulcie who was a cellist. When Rosina gave up viola playing because of arthritis, her sister conducted the Linden Players and they assembled in the screened-off area at the West end of the nave of St Leonard's Church. Dulcie renamed the group Newton Abbot Orchestra.
When I first joined with trepidation I was encouraged to continue by Mary Bennett who played the viola. That must have been some time in the late 1970s. When St Leonard's closed, the orchestra moved to the gymnasium of Coombeshead College, sometimes used the school hall there, and later moved to the Daphne Collman Hall in Knowles Hill School. Dulcie Salder was succeeded as conductor by Marion Room, a teacher at Audley Park School in Torquay. Other conductors followed her, and three members of one family were among them, David Bourne, his wife Lorraine and their son Steven. Our present conductor, Rob Young started with the orchestra at Knowles Hill School (now Newton Abbot College).
(10th March 2011)